Frequently Asked Questions
Answers to questions concerning:
What do I need to do to get a library card?
It is quite simple. Stop in at one of the 18 area Bucks County Libraries and show us your driver's license with your Bucks County address.  We'll have you fill out a short form, and you will get a library card!
What do I get with my library card?
Hmm, lets see: the ability to gather information, build knowledge, gain power, and travel to worlds beyond your imagination. By that we mean:
Access to any book, movie, CD, video game, etc. available at any of the 18 Bucks County libraries
The ability to place holds on all of the items mentioned above, from home!
The ability to bring in books not owned by the Bucks County Library Network through our Interlibrary Loan service
For Northampton patrons only, you have access to our downloadable Freegal Music streaming site.
Access to many online databases (either in the library or from home!)
What is my PIN number?
Your pin number is a 4 digit number either chosen by you or assigned randomly at the time your card was issued. It is needed to access certain online services from home such as: placing holds, renewing books, accessing databases, and more.
What do I do if I do not know my PIN number?
You will have to stop into the library and visit the circulation or reference desk. We can look up your PIN number for you. For privacy and security reasons, we do not give PIN numbers out over the phone.
Back to Top
Borrowing Procedures
You must have a "Bucks County Public Libraries" card to check out items. You must have it with you OR a valid Pennsylvania driver's license to check out. Lost cards and changes of address should be reported promptly. There is a $3.00 charge to replace a lost card.
Our bookdrop is open 24 hours a day and is located on the side of the building facing Upper Holland Road.
You may return books from our library to any of the 18 Bucks County Network Libraries.
Back to Top
Borrowing Limits
Per card:
100 books
20 music CDs
10 Magazines
10 audio books; 10 Playaways
10 DVDs or BluRays
1 Video Game
Per family:
3 non-fiction books per subject per family.
Loan Periods
21 days
Most books
Audio books
Music CDs
Magazines and pamphlets
14 days
New fiction books
Reading Olympics books
7 days
DVDs
Blu-rays
Video games
Book Rentals
Placing Holds
Placing holds from home is quite easy:
Begin by searching for an item in our catalog. Once you have found an item you would like to place on hold, click the "Place Hold" link, as seen below: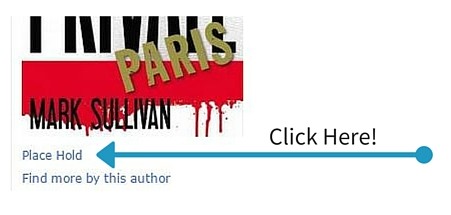 You will be directed to the following screen. At this point, grab your library card and locate your card number (it begins with a "B"). You will also need your PIN number. Follow the directions outlined below:

If we have your e-mail address, we will send you an e-mail when your hold is ready to be picked up. If we do not, we will give you a phone call.
You may place up to 15 items on hold per card
What Goes Into Placing a Hold?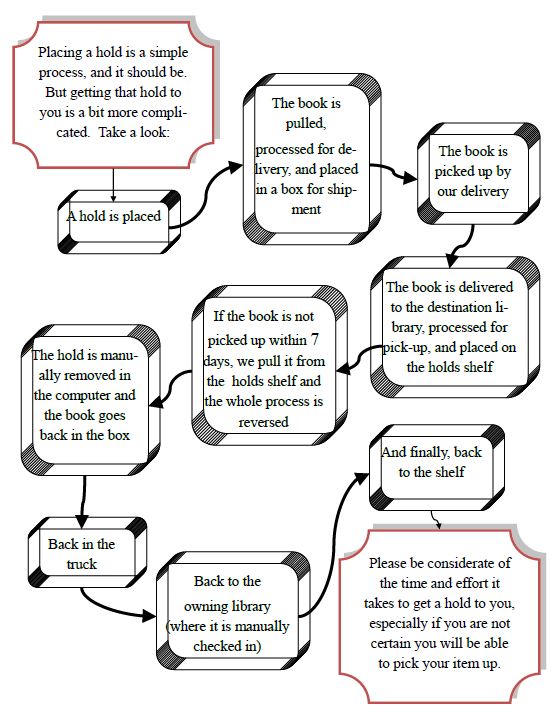 Renewals
Items may be renewed:
Twice for 21-day items.
Once for 14-day items, videos, DVDs, Blu-rays, and video games.
If there is a hold on an item, it may not be renewed.
You may renew items over the phone or in person during the library's operating hours. You may also renew your items 24 hours a day by accessing your account online.
Back to Top
Fines
Overdue fines are charged only for days the library is open.
$.20 per day for all items except movies and video games.
$1.00 per day for DVDs, Blu-rays, and video games.
Paperback books have a maximum fine of $3.00 per item. All other items have a maximum fine of $5.00 per item.
If an item is lost or damaged, the borrower is responsible for paying the full replacement cost of the item.
Parents are responsible for items borrowed by children.
As of 02/01/2015:  If you have a fine for items returned 6 moths ago or longer, your account will be blocked until the fines have been paid.  As you may know, the county policy is that items may continue to be checked out as long as the total amount of fines is less than $5.00. This policy is extended as a courtesy, assuming that most patrons will pay their fines as soon as possible.  However, there are some patrons who take advantage of this policy, leaving the fines ongoing for extended periods of time.
We thank you for your support as this change takes effect.
Collection Agency
If an item is overdue for more than 60 days, your account will be forwarded to a collection agency and you will be charged a non-negotiable $10.00 fee. The collection agency will attempt to collect the overdue items, or the replacement cost of the items, for up to 6 months. If the items are not returned, or if the items are not paid for, within this time, a notice will be put on your credit report stating that an unpaid fine exists for the Free Library of Northampton Township.
If you have over $25.00 in fees, after 45 days, your account will be forwarded to a collection agency and you will be charged an additional $10.00 non-negotiable fee. If the fees are not paid down within 6 months, your credit will be affected.
Privacy and Confidentiality
Privacy is essential to the exercise of free speech, free thought, and free association. Courts have upheld the right of privacy based on the Bill of Rights of the U.S. Constitution. Confidentiality of library records is a core value of library service nationwide. The Bucks County Free Library (BCFL) endorses the American Library Association's Code of Ethics which states: "We protect each library user's right to privacy and confidentiality with respect to information sought or received and resources consulted, borrowed, acquired, or transmitted."
BCFL is governed by the Pennsylvania Library Code, Title 24, Chapter 16, which states:
The library and its staff do not disclose or distribute borrower circulation records, computer signup information, or other personal information to outside parties except as required by law or with the user's authorization

This includes disclosure or distribution of information upon request by a parent or guardian for a child's records or a family member for another family member's records.
BCFL's full privacy and confidentiality policy.